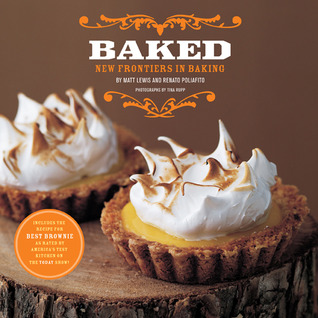 As featured on The Martha Stewart Show and The Today Show and in People Magazine! Hip. Cool. Fashion-forward. These aren't adjectives you'd ordinarily think of applying to baked goods.  Think again. Not every baker wants to re-create Grandma's pound cake or cherry pie. Matt Lewis and Renato Poliafito certainly didn't, when they left their advertising careers behind, pooledAs featured on The Martha Stewart Show and The Today Show and in People Magazine! Hip. Cool. Fashion-forward. These aren't adjectives you'd ordinarily think of applying to baked goods.  Think again. Not every baker wants to re-create Grandma's pound cake or cherry pie. Matt Lewis and Renato Poliafito certainly didn't, when they left their advertising careers behind, pooled their life savings, and opened their dream bakery, Baked, in Brooklyn, New York, a few years back. The visions that danced in their heads were of other, brand-new kinds of confections . . .  Things like a Malt Ball Cake with Milk Chocolate Frosting, which captures the flavor of their favorite Whoppers candies (and ups the ante with a malted milk ball garnish). Things like spicy Chipotle Cheddar Biscuits that really wake up your taste buds at breakfast time. Things like a Sweet and Salty Cake created expressly for adults who are as salt-craving ?as they are sweet-toothed. Which is not to say that Lewis and Poliafito sidestep tradition absolutely. Their Chocolate Pie (whose filling uses Ovaltine) pays loving homage to the classic roadside-diner dessert. Their Baked Brownies will wow even the most discriminating brownie connoisseur. And their Chocolate Chip Cookies? Words cannot describe. Whether trendsetting or tried-and-true, every idea in this book is freshly Baked....
| | | |
| --- | --- | --- |
| Title | : | Baked: New Frontiers in Baking |
| Author | : | |
| Rating | : | |
| ISBN | : | 9781584797210 |
| Format Type | : | Hardcover |
| Number of Pages | : | 208 Pages |
| Status | : | Available For Download |
| Last checked | : | 21 Minutes ago! |
---
Baked: New Frontiers in Baking Reviews
What can I say, it's fall and I want to eat (like it's any different from any other time of the year). I'm going to work my way through the recipes....and I pretty much have. The downside of this book is that every recipe does not have a picture and I really like to see how the author presents their food. And some baking experience is nice. I've been baking for 50 years (Mom started us young!)and some of the techniques were tricky. But all-in-all my experience was very good. Pear Plum Crisp = AA super alternative to the regular apple crisp. Not too sweet, with a nice citrusy pop. My son is not a fan of cooked fruit but liked this, said he preferred it over apple. They didn't skimp on the crunchy crisp topping, either. This is also is terrific leftover, either cold or warm (nuke for a few seconds in the microwave). Milk Chocolate Malted Milk Ball Cake = DPerfect example of why I don't buy a cookbook until I make a bunch of the recipes. The notes hint that it's a tender cake, but I didn't expect it to be pathological. I followed the directions to the T, even waiting a extra 10 minutes to take the layers out of the pan because my kitchen was so warm. They started to fall apart right then, and by the morning, they were a complete disaster. The flavor was ok, not really malty. I globbed some icing on it, and that was GOOD. I will try this again to see if it was just a fluke. After note: The flavor intensified with a couple hours of sitting. My son loved the cake, the texture and flavor (I had to agree, it was a great tasting cake), and I will try it again, maybe as a sheet cake.Banana Espresso Chocolate Chip Muffins = AThese are terrific, moist with a deep banana and chocolate flavor. Hint: since these are not high rising muffins, try to avoid over-filling the muffin cups. If they get too close to the top of the cup, they flatten out and the edges get crispy. I found that using a standard ice cream scoop (don't heap the batter in it, just level) was the perfect amount. Also, it's a good idea to "flour" the chocolate chips before mixing them into the batter; in a bowl coat the chocolate with a teaspoon or two of flour, then put in a strainer to knock off the excess flour. This will keep the chocolate chips from sinking to the bottom and burning (this also is a good trick when baking with blueberries). Sour Cream Coffee Cake w/ Chocolate Cinnamin swirl = AOk this is going to be my signature coffee cake recipe. This was so good. And the sour cream-iness intensified as it sat (though it didn't sit long!) I'm going to experiment with a raspberry or blueberry swirl (for those eaters that are allergic to cinnamon)Red Velvet Cake w/ Cinnamon Frosting= AI made this for my son's birthday and he loved it. The red color was perfect, and the cake was tender and moist. I have to admit, I did not make the frosting from the recipe. It had almost a pound of butter, whole milk and some heavy cream.....it would have killed me. I used canned vanilla frosting and added cinnamin to it and it was terrific. Next time, though, I will use the cream cheese frosting and add cinnamin to that.

Some of these are a little challenging, but I think with practice they'll get easier. The recipes can be complex, with lots of ingredients, but that's just because the writers are nit-picking perfectionists. The recipes are complicated because they're all really *good.* I haven't made anything out of this book that wasn't extremely high-quality (well, it didn't always turn out high-quality, but that was definitely due to the my own lack of skill). Not the *easiest* baking book, but if you're willing to learn some techniques, invest in good ingredients, and follow their well-detailed process as if it were gospel, you can get some really tasty and professional results. A baking book for the overachiever. PS- So far I've tried: Sweet and Salty Cake (dark chocolate cake with salted caramel and caramel chocolate ganache buttercream) and the Flourless Chocolate Cake. Next up: Grasshopper Cake (dark chocolate cake with crème de menthe buttercream) and possibly something like scones or biscuits.

I have made enough recipes now from this book to say it's a total winner. In general, the recipes are complicated and many take a very long time to make, but everything I have made has been amazing. The root beer bundt cake, butterscotch pudding tarts, peanut butter chocolate chip cookies, monster cookies, pumpkin chocolate chip loaf, pumpkin whoopie pies, brownies...That might be all I've made, but they have gotten rave reviews. The frosting from the root beer bundt cake will be my go-to chocolate frosting recipe from now on, and the monster cookies are to die for. The pumpkin whoopie pies are very impressive and very easy, as well. Be prepared to have many pounds of butter and cartons of eggs if you're making any of these recipes, but they are so totally worth it!

The Baked Boys know exactly what they are doing when it comes to Modern Baking.In fact, they are the modern bakers of our time.The recipes (and I've tested almost all) are flawless.If you like kicked up classics with a twist. Then you need this cookbook.No fancy sauces, or crazy hard to find ingredients ever needed.Here are some of their recipes I did: http://vanillakitchen.blogspot.com/20...http://vanillakitchen.blogspot.com/20...

During the holidays this book was getting a whole lot of use. I've made several of the delicious goodies, and all have been outstanding, including:1) The Sweet & Salty Cake is my new favorite chocolate cake. Ever.2) Coconut cupcakes have the most delicious filling, and I'm not even that crazy about coconut.3) Try the vanilla marshmallows for smores, you'll never want another store-bought marshmallow4)The only off note I thought was the red hot red velvet cake. Cinnamon in a red velvet? No thanks. However the boiled flour frosting was delicious, and way better than cream cheese.

I'm a sucker for cookbooks, especially ones with baked goods. This one looks like there are some great recipes, I have several scoped out to try. I liked the pictures that showed the items, made me want to give them a try.

ooohhhhh bourbon chocolate pecan pie - for real?

Make the lemon lemon loaf. Trust me.

These recipes are interesting, but complicated. I also wish that all the recipes had pictures.

I am not a huge fancy baker, and this cookbook speaks to me because other than these neopolitan things that require you to bake the batter in three separate pans,then assemble the 1/4 inch cakes with apricot jam, and then cut them out (I mean, not hard, I will probably make them with Ivy because they look cool, but I do not need another cookbook with a recipe like this...) everything looks pretty basic--that impression is reinforced by the fact that I have ALL the tools they insist you have to make the recipes therein, and all the cakes just require that you assemble them straight and frost (not that that isn't a challenge, just that it is do-able). THings I absolutely have to make are the Sweet and Salty cake (which Martha Stewart highlighted--but is a chocolate cake with caramel ganache), the butterscotch tarts with oatmeal crust, and root beer bundt cake (with a chocolate root beer butter cream frosting). While both Oprah and Christopher Kimball (so a baker and a consumer) think these are the best brownies, I am skeptical that they will be better than Abe's (a side by side tasting might need to be arranged) and the crisp recipe is definitely not better than the recipe I use, for my taste (more butter, less oatmeal, and therefore not enough like an oatmeal cookie for me) it looks good. Great new addition, especially if you already have the basic cookbooks for baking!

This book gets 5 stars purely for the reason that it contains our family's favorite brownies: Kicked Up Brownies. These moist, rich gems contain cardamom, cinnamon, and cayenne pepper! They start with melted chocolate and butter over a double boiler (or a stainless bowl over a water-filled pan) so they aren't as easy as other brownies I've made but the extra bowl and pan during cleanup and this extra step are well worth it to all of us!!I need to try more recipes from this book, as I realize that giving a book 5 stars based on one outstanding recipe isn't quite fair, or rather doesn't tell the whole story. But for now we love these so much that all other brownies pale in comparison, making me feel comfortable enough doing so. I wonder what other treasures remain buried/untried by us in this book.

I can't tell how I feel about this book yet. I was super excited about it, and the recipes are definitely cool, but I've made three things from it already and two of them didn't really turn out very well. I've got my eye on that red hot velvet cake though. I'm watching you, cake.Addendum: I've decided that the index to this book is really badly done. Everything is only indexed by its title, so therefore when I'm looking up "granola" I have to remember that the title is "Easy Homemade Granola" and look under the "E's." Seems like a rookie cookbook mistake. Luckily there aren't that many recipes so I'll live. PS - That granola is seriously delicious and I've already made it twice.

Favorite Recipes:Banana CupcakesVanilla Pastry CreamUpstate Cheesecake *Classic Pie Dough *Bourbon Chocolate Pecan PieLemon - Almond Meringue TartsBaked Bars *Lemon Lime Bars *Raspberry Crumb Breakfast BarPeanut Butter Crispy Bars (elegant rice krispies)Pecan and Almond Chocolate ToffeeVanilla Bean Caramel ApplesBrown Sugar Caramel Sauce *Vanilla MarshmallowsI would place this as more on the professional/ pricy side of cookbooks, with very specific equipment and ingredients and while they are fine and delicious ingredients, they are much more costly and harder to track down, so just be aware of that.

I've made several recipes from this book and some have been amazing:* banana espresso chocolate chip muffins* chocolate chip cookies* pumpkin chocolate chip loaf* peanut butter crispy barsSome are between good and great:* bourbon chocolate pecan pie* brownies* pumpkin whoopie piesSo far, only one recipe was between okay and good (root beer cake: thought the frosting was way too sweet, but willing to give it another try). Recipes are easy to follow, and there are unique recipes here that I haven't seen in other books (waiting to try the chocolate malt ball cake and the sweet and salty cake). And now I have a big crush on Renato.

Another tasty-looking cookbook from a NYC bakery that I've never been to, but was filled with complex but delicious recipes that I would love to try. Again the biggest complaint was there weren't enough pictures for all the items. I will say that the overuse of dark chocolate in the cookbook was a bit overkill, but I did like the fact that they used dried cherries in several of the recipes. I would be tempted to try the Easy Homemade Granola, Peanut Butter Pie with Cookie Crust, Brewer's Blondies, Oatmeal Cherry Nut Cookies, and the Green Tea Smoothie.

Ok, I caved an bought another cook book. I tried the Sour Cream coffee cake recipe via the food blog "Crepes of Wrath" and it was amazing. The only problem I had with it was that it made a LOT of coffee cake. I'm going to make it again this week, but I'm planning on halving the recipe. I also can't wait to try the brownies and the Sweet and Salty cake, especially after reading the other reviews here! Also, the adult hot chocolate looks amazing, especially if I can make some homemade marshmallows too...

what fun! I wish every recipe had a picture. Super introductory story about two dudes who decide to create a bakery in NYC that has the best cup of coffee and piece of cake you can find. My kind of guys.I look forward to make the: marshmallows, brownies, sweet and salty cake, and millionaire's shortbread one of these days. I might have to buy this book; I don't know if 3 weeks from the library will be long enough.p.s. anyone know where you can buy "gelatin sheets" in Louisville?

Just realized I don't have ANY cookbooks on my list. I would have to say that I do sorta read cookbooks. I go through them and look at recipes. So this is a lovely cookbook. The layout is great if a bit intimidating - I mean 3 pages on how to cook and assemble a cake! There's several I'd like to try. My sister made the Rootbeer cake and although we all agreed we didn't taste the rootbeer it was TASTY none the less. I'm very picky about icing yet loved this.

Everything I've tried from this book has been out of this world. Just so delicious. Favorites include root beer cake, brownies, and plum pear crisp. I look forward to trying out the other recipes too! While everything tastes delicious, the cake recipes only make one layer and it is a little tedious to triple the recipe for a proper three layer cake. Recipes, however, are easy to follow and the writers add tips to help the user out. Again, everything has tasted so, so great.

I wasnt impressed by this cookbook. There was only one recipe I would have copied (and I decided I would just find something else if I ever needed it). It was for a malted milk ball cake, which I think my mom would like. Everything else in the book I've seen before or something like it. So, I thought it was ironic that they called it New Frontiers.

Wonderful new collection of baked goods. A few use hard to find ingredients, but overall it has some terrific recipes. The sweet and salty chocolate cake and the malted milk ball cake are both excellent. There is also a recipe for chipotle cheddar biscuits that was great. Their brownie recipe also won a number of prizes.

This is an absolutely delicious cookbook. You know how some cookbooks sound good but there is no way you would ever actually attempt to make any of the recipes - whether because they're too obscure or way too complicated or whatever. That is not this cookbook. These guys went out of their way to make these recipes friendly for the home cook and they look (and taste!) fabulous!

I picked this book up on a whim and, the recipes have really inspired me. In fact, I've decided to bake my way through 'Baked'. The photography is amazing and the instructions easy to follow, with a blend of favourites and 'experimental' recipes that make you want to bake - now! I've tried a couple of recipes, and so far, they've turned out just like the pictures, which is always a good sign.

So far, I have made the Root Beer Bundt Cake with success, and I'm eager to make other tasty treats featured in the book: Coconut Snowball Cupcakes, Lemon-Almond Meringue Tarts, Sour Cream Coffee Cake, Sweet and Salty Cake, oh boy! Four stars for the wonderful food porn, creative recipes and cute presentation. If I have trouble with recipes, though, perhaps I may lower the stars a bit?

i made the baked brownies and banana cupcakes with vanilla pastry cream. they were both really good. i made the chipotle cheddar biscuits, which i was not a big fan of but i would not say they were bad. overall, the recipes in this book require a lot of specialized ingredients, which can make the recipes expensive. because of that, it not like its going to become my go to cookbook.

I (forgive me) devoured this cookbook. So far, I've only made the salted caramel cake, but I'm gathering ingredients for the malted milk cake and the rootbeer cake. I don't know for sure, but it's looking like I'm going to need to actually buy this and use it for every special occasion for at least a year. I like the authorial tone, the asides, as well as I like the recipes.

lemon scones - 3 starsMonster Cookies - 3.5 - This recipe makes a lot and does not store well - have a crowd on hand to eat them or freeze the dough. Less than a cup of flour and nearly six cups of oatmeal means this is a cookie I eat for breakfast

Fabulous! I baked the chocolate chip pumpkin bread and it was amazing. Great photos and interesting recipes. My only complaint is that the print is too small-a frequent complaint of mine about cookbooks. So much more difficult to read the recipes while baking!

There are some great recipes in this book. I can't wait to make the pumpkin bread with chocolate chips, the oatmeal cookies with candied cherries, and and the peanut butter/milk chocolate chip cookies.